Image
The Image object displays a static or animated image. The visual content of an Image is determined by the associated Texture asset and an optional Animation asset. Images can have a custom color or shape.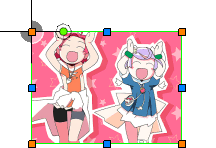 Fig: Image object
---
Usage
Image is the most versatile and commonly used object type in Novelty.
Example use cases:
Static images (textures, backgrounds, etc.)
Animations.
Visual element of another object.
---
Caveats
On some hardware textures will get resized to increments of powers of two (256, 512, ...). This will create blank areas that only appears when the Image is tiled.
---
Related articles
---
Sample NoveltyML
<Image name=

"My image"

 texture=

"My texture"

 />